New single OUT NOW! PRE-ORDER new album "Gee Whizz, it's Christmas" !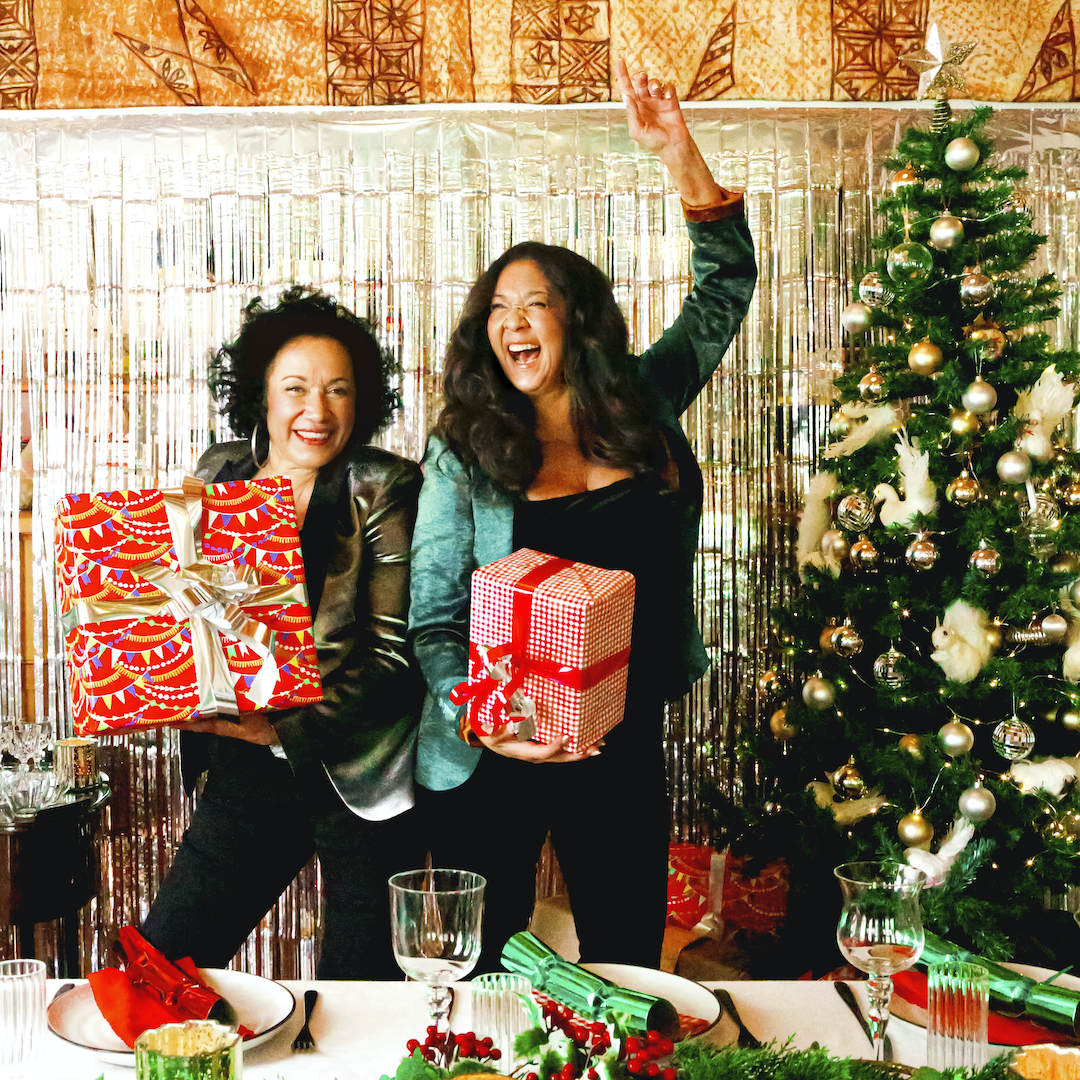 VIKA & LINDA ANNOUNCE THEIR FIRST EVER CHRISTMAS ALBUM, GEE WHIZ, IT'S CHRISTMAS! (OUT 4 NOVEMBER)
THE FIRST SINGLE 'CHRISTMAS ALL OVER AGAIN' IS OUT NOW
PLAYING A VERY SPECIAL CHRISTMAS SHOW THIS DECEMBER IN MELBOURNE
"It's Christmas time, again!" So said Tom Petty – and just about everyone around this time of year. And the marvellous news to open this festive season is that Vika & Linda have made their very own Christmas album – Gee Whiz, It's Christmas! – which will be released by Bloodlines on November 4.
This is not your usual Christmas album. The sisters are not singing the standard seasonal songs. Instead, the record is filled with their own festive favourites, with Vika & Linda delivering their take on contemporary Christmas classics by the Ramones, Slade, Wizzard and Queen.
"We just wanted to make a Christmas record you could dance to," Vika says. "Something to dance to while you're cooking lunch on Christmas Day". "A joyous record, something to make people happy," Linda adds. "And we didn't want to do the obvious songs."
Vika & Linda celebrate the festive season today with the release of the album opener, their version of Tom Petty's 'Christmas All Over Again'.
In February Vika & Linda settled down at Woodstock Studios with producer Cameron Bruce (keyboards) and the Vika & Linda band featuring Ben Hauptmann (guitars), Richard Bradbeer (bass) and Lachlan O'Kane (drums). They put some tinsel on the walls to create a Christmas feel, and got cracking on a set of songs that includes a stomping version of Slade's 1973 UK chart-topper 'Merry Xmas Everybody', a rollicking take on Wizzard's glam rock gem 'I Wish It Could Be Christmas Every Day', as well as a couple of Bull family favourites – 'Blue Christmas', which Elvis recorded in 1957, and 'Please Come Home For Christmas', which was recorded by Willie Nelson, one of their Dad's favourite singers.
Of course, Christmas is all about family, and the sisters are joined on the album by Linda's daughter, Kiki, who provides the backing vocals on their version of The Staple Singers' 'Last Month Of The Year'.
Providing the album's title is the 1963 single by the Queen of Memphis Soul, Carla Thomas. "We love Carla, and 'Gee whiz' is such a great expression and it really suited the vibe of the record," Vika explains.
The cover of the record shows the sisters in their Sunday best, having their photo taken with Santa at Melbourne's Doncaster Shoppingtown in 1972.
Gee Whiz, It's Christmas! follows the seventh studio album by Vika & Linda, The Wait, which entered the ARIA charts at number two last year.
After the highs and lows of the past couple of years, this festive season promises to be a celebration. As well as the Christmas album, Vika & Linda are releasing their first book, No Bull, a memoir of their story so far, to be published by Affirm Press on October 25 – book pre-order is available HERE. And they will be performing a very special Christmas show at the Melbourne Recital Centre on December 2.
Ring in the Christmas spirit with Vika & Linda. The bells are ringing, Vika & Linda are singing… Gee Whiz, It's Christmas!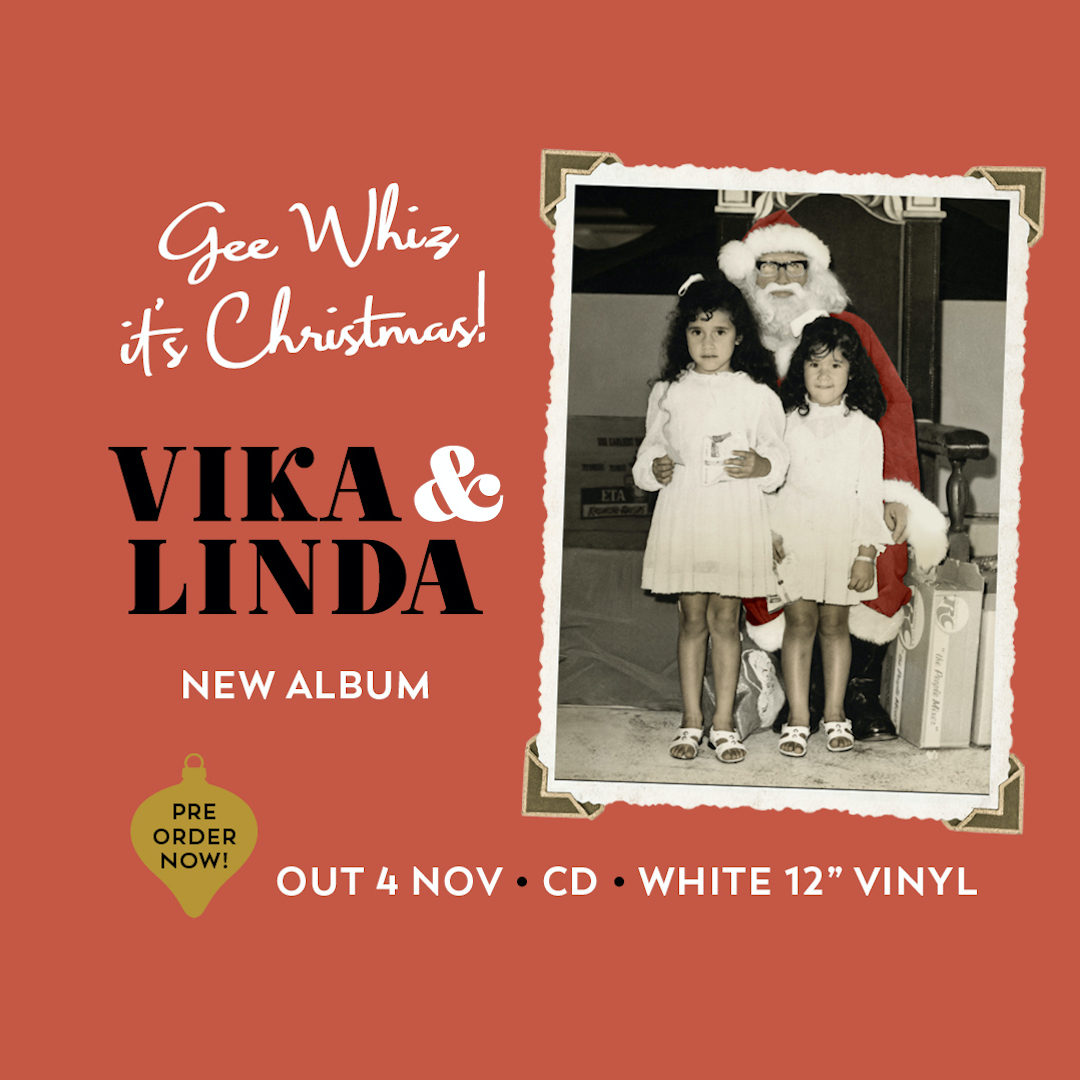 Vika & Linda – Gee Whiz, It's Christmas!
Out 4 November 2022 through Bloodlines
New album available to PRE-ORDER HERE
Tracklisting:
Christmas All Over Again
I Wish You A Merry Christmas
I Wish It Could Be Christmas Every Day
That Spirit Of Christmas
Merry Christmas (I Don't Want To Fight Tonight)
Please Come Home For Christmas
Blue Christmas
Merry Xmas Everybody
Last Month Of The Year
Someday At Christmas
Thanks God It's Christmas
O Little Town Of Bethlehem
(Everybody's Waitin' For) The Man With The Bag
Gee Whiz, It's Christmas!